Vacation Apartment 43 m2
At the historical city centre of Ganges
Facilities:
Kitchen - living room - bedroom - bathroom
Bed 1,60 x 2,00 m
Convertible sofa 1,20 x 2,00 m
Bath tub
Electrical heating and a modern wood burning furnace
Washer
Kitchenette in the combined lounge/dining room (3 gas flames, 3 hotplates, electric oven)
CD-/DVD-player
2 bikes
11, Place Fabre d'Olivet
Place Fabre d'Olivet is the main piazza in the heart of Ganges and a former market square. House no.11 is a stunning 17th century building. You access the property through an impressive portal entering a spacious entrance hall. Up on the second floor you'll come to a massive wooden door leading directly to a spacious communal terrace. It's a marvelous place in spring time to doze away in the sun and you may even have a chance to observe swallows and swifts feeding their babies. You'll find our vacation apartment located right across the terrace. It provides perfect accommodation for a couple, a small family or even for three friends, who get along well.
The combined lounge/dining room with a direct view to the terrace is dominated by an ancient marble fireplace equipped with a modern furnace. When nights get colder you will enjoy sitting in front of a cozy crackling fire. Next to the combined lounge/dining room you'll find a quiet double-bedroom with en-suite bathroom. In former times two fully covered stone transitions were bridging the alley between two opposing parts of the building and nowadays one of these belongs to our apartment. This is used today as an additional small kitchen offering extra space for a sink, a washer and storage.
The Neighbours
The building is home to two dozen tenants. It's a good mixture of French locals and part-time vocational inhabitants coming from Switzerland and Denmark. The spacious terrace is a communal area and during midsummer-nights neighbors like to get together and share supper.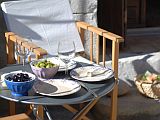 Prices per week
Nov.-Feb.: 170,- Euro
March-June + Sep.-Oct.: 230,- Euro
July + Aug.: 260,- Euro